We're Getting Mutants in the MCU - The Loop
Play Sound
A Passing Moment of Excitement (それは一時的な興奮状態, Sore wa ichiji-tekina kōfun jōtai?) is the one hundred and twenty-second chapter of Koyoharu Gotoge's Kimetsu no Yaiba.
Summary
After defeating Gyokko of the Twelve Kizuki, Muichiro Tokito is approached by Kozo Kanamori who is concerned for his well being. Despite trying to reassure him that he is fine and to check on the others, Muichiro begins to foam at the mouth revealing that his blood was poisoned by Gyokko and he proceeds to fall unconscious. Kozo begins to panic and calls out to Haganezuka for help, who never comes.
Kotetsu appears from behind him in the forest and instructs Kozo to turn him on his side, scaring him in the process. Kozo is surprised to see the young boy standing before him, and asks how he's still alive despite the massive amount of blood loss. Kotetsu explains that the blood from his arm smeared onto his stomach, but he was protected from any fatal injury due to the hilt that Tanjiro had entrusted to him for his katana. Muichiro regains subtle consciousness and sees the hilt which belonged to the late Kyojuro Rengoku, causing tears to well in his eyes. Apparitions of his deceased mother, father, and brother appear all around him, congratulating him for his hard work.
Elsewhere in the forest, Tanjiro can be seen struggling to defeat Zouhakuten's wooden dragon heads. He attempts to injure one of the heads using the Hinokami Kagura: Clear Blue Sky but the dragon utilizes a sound attack which causes Tanjiro to collapse and his ear drums to burst. As the dragon head launches another attack towards Tanjiro, he attempts to dodge but his foot is left injured in the process. The dragon head leaves him with no chance to escape and approaches quickly, latching onto Tanjiro's wrist before he can defend himself.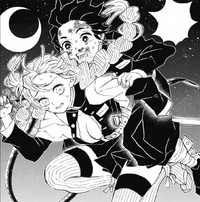 Nezuko and Genya watch helplessly unable to come to Tanjiro's aid as the dragon head begins to come down on him, crushing him in the process. However within moments, the dragon head is split in half and is subtly destroyed as a squeal of disgust can be heard in the night. Mitsuri Kanroji can be seen leaping in the air while carrying Tanjiro on her back to safety, while apologizing for her tardiness. Stunned by her appearance, Tanjiro warns her to be careful of the demon she's about to face since he is a member of the Twelve Kizuki, but she pays him no mind and proceeds to scold the demon instructing him to return Nezuko and Genya.
Unfazed by the arrival of the Hashira, Zouhakuten proceeds to insult Mitsuri by calling her a tramp, for trying to order him around. Mitsuri stares at the demon with disgust after being called a tramp and is offended by the insult. She compares him to her younger brother in a comical sense and is appalled by his behavior. Zohakuten begins to launch his attack against Mitsuri using the Crazed Cry of Thunder Death to attack her, but she is able to defend herself using Love Breathing : Third From - Catlove Shower to negate his attack. Mitsuri becomes annoyed with Zohakuten's sudden attack and leaves him surprised with her ability to stop his attack.
Characters in Order of Appearance
Muichiro's Father
Muichiro's Mother
Events
Muichiro again had flashbacks of Kyojuro Rengoku, his father, his mother, and his brother Yuichiro complimenting him.
Tanjiro's fight with Zouhakuten continues.