Jurassic World: Dominion Dominates Fandom Wikis - The Loop
Play Sound
Barehanded Fight (素手喧嘩, Sutegoro?) is the twenty-sixth chapter of Koyoharu Gotoge's Kimetsu no Yaiba.
Summary
Zenitsu Agatsuma lies unconscious on the ground as he recalls the day's events and describes his sharp hearing: he is capable of hearing the sounds of Demons and the conversations of other people, even while asleep. He notes how Kyogai's sound has disappeared, meaning he had been defeated by Tanjiro Kamado and that the latter was making his way back outside. Shoichi appears above Zenitsu and with tears in his eyes, explains how they made it out of the house through falling out of a window, thanking him for making sure he remaind unharmed. Zenitsu discovers blood on the back of his head and panics, but is interrupted by the boar headed swordsman smashing his way out of the house.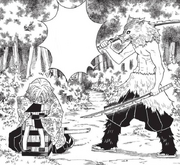 Zenitsu remembers and reveals the swordsman as the fifth Final Selection survivor, the fastest individual to make it up and down Mount Fujikasane before the other survivors. The swordsman sees Nezuko Kamado's box and senses a Demon, running to attack it but is cut off by Zenitsu, who defends the item that Tanjiro found more important than his own life. He admits that he knew there was a Demon inside ever since he met Tanjiro, but didn't question it as Tanjiro had such a pure sound coming from him that made Zenitsu deem him trustworthy. He refuses to let the assailant harm the box without first figuring out what its contents were from Tanjiro himself.
The boar-masked Demon Slayer acknowledges Zenitsu's courage and begins to beat him up, just as Tanjiro arrives with Kiyoshi and Teruko. The former expresses great shock at the sight, as the way Zenitsu defended the box reminded him of how Nezuko tried to protect Rokuta Kamado during the Demon attack. Before the assailant can harm him and Nezuko even further, Tanjiro punches him in the ribs, breaking them. He lectures the assailant on how Zenitsu wouldn't reciprocate his attacks as it was against the code of conduct for Demon Slayers to attack each other.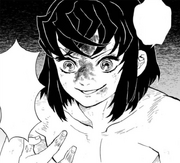 The assailant decides to instead duel with his bare hands rather than with his blades, while Tanjiro desperately tries to talk it out. He notices how the assailant's attacks are very close to the ground, similar to fighting a wild boar. He also tries to attack lower, but the assailant dodges and hits him using his extreme flexibility, laughing and showing off his flexibility by bending backwards and putting his face between his legs. Tanjiro tries to advise him not to do so since his bones were broken, but the assailant ignores him and Tanjiro is forced to use his headbutt to make him calm down. The assailant staggers backwards and his mask falls off, revealing his face.
Characters in Order of Appearance
Events
The boar headed swordsman attacks Zenitsu