Demons (鬼, Oni?) are an ancient race of monstrous, supernatural, immortal beings and the main antagonists of Demon Slayer: Kimetsu no Yaiba.
Overview
Demons are a mostly carnivorous, vampire-like species whose primary diet is humans, consuming their flesh and mostly the blood. Sunlight is deadly to them and will burn them to ash, so they strictly operate at night. Demons have an abnormally powerful physical constitution and regenerative ability which makes them immune to normal weaponry and grants them the ability to regenerate from any wound with ease, even re-growing their head. Only the Nichirin Swords, special weapons made from special ore with sunlight absorption properties, can inflict life-threatening wounds. Of course, even with a Nichirin Sword, the only method guaranteed to kill a demon is by chopping its head off. Demons are also known to hate Wisteria flowers, which are poisonous to them and whose smell is repudiated by them.
Practically all demons possess a murderous instinct to kill and devour humans, and have lost most of their memories from their human life. While they do still retain their original personality, most times it becomes a darker version of what it used to be. However, there are a few demons who have completely retained their human emotions and memories, such as Nezuko Kamado, Tamayo and Yushiro. Certain members of the Twelve Kizuki also retain their human memories such as Rui (though he eventually lost his memories later on), Kaigaku, Kyogai and Kokushibo. All demons do regain their memories moments before they die, which possibly means that demons also have their lives flash before their eyes before they turn into complete ash.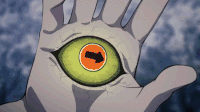 The demon species is also known to mutate and grow stronger over time as they consume more humans, allowing them to grow into more monstrous forms and improve their physical and regenerative abilities among other attributes. Once demons consume enough humans, they can develop Blood Demon Arts, an array of supernatural powers and techniques which are unique to each demon. Different human blood types have different levels of nutrition for demons: the rarer the blood type, the greater the nutrition. The rarest blood type is known as Marechi; eating a single human with this blood type provides a demon with roughly the same nutrition as eating one hundred ordinary humans.
Both Tamayo and Nezuko are also shown to be exceptions to this rule, the former is shown to have become a relatively powerful demon despite surgically modifying her body to require minimum blood consumption (typically in the form of blood donations). The latter, who never took a human life, gathers most of her strength through extensive sleep and was able to develop her own powers and grew stronger over time.
Muzan's own blood is also shown to have special properties that can strengthen a demon, proportional to the amount of blood infused. The blood, however, is dangerously toxic in higher concentrations and can force a mutation in the recipient's body far beyond what they can withstand, causing death. However, if they do endure the process which is shown to be more excruciating the higher the dose is, their strength will grow tremendously. Conversely, Muzan is also shown to be able to nullify a demon's immortality and regenerative ability, being able to devour and kill them if he so desires.
The Demon Slayers are the central adversary to the demon race as they are an organization trained to destroy them through a multitude of well refined techniques and tools developed across centuries to exterminate them. As a result, demons tend to live in secrecy with the population at large being ignorant to their existence. Even more, some demons blend into human society as a way to hide from persecutors and also to have a much easier access to prey.
Appearance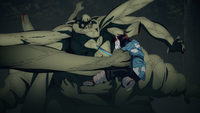 Demons come in a variety of forms. Most are humanoid in appearance, only with slight alterations to their physiology, including but not limited to: paler skin, fangs, pointed nails, catlike eyes with unusually-colored sclera, dark markings that come in various patterns across their bodies, and/or a change in hair color. The changes differ from demon to demon, as some demons can still retain their normal appearance while others gain distorted features like multiple heads, mouths, or limbs. There are also cases where demons possess bizzare monstrous physiologies more akin to beasts than humans.
Behaviour
Demons for the most part work in solitude not bothering to group up and are in fact shown to be highly territorial and fight over both prey and potential hunting grounds, the sole exception is the Spider Family, a group of demons forced to work together by their leader Rui in what was a hostile environment. Nonetheless, demons are all for the most part connected to their progenitor, Muzan Kibutsuji, who through an array of curses is able to read their minds, witness what they see, discern their location, and even destroy them remotely, operating akin to a hive-mind. All demons pledge obedience to Muzan, who uses fear and manipulation to maintain loyalty. However, Muzan's control over his progeny is not omnipotent. An individual with a strong will might be able to sever their connection with Muzan, rendering them immune to his curse and making them mostly undetectable by him. The only demons known to do this are Tamayo and Nezuko.
Creation
Other than Muzan, the first demon who was born as a result of the Blue Spider Lily medicine, demons are not born naturally. Most members of the race reproduce by converting a human through exposure to the blood of a very strong demon; only Muzan has been shown to possess this ability.
People resistant to demon blood exist, though they are very rare.[1] Kokushibo has also revealed that humans that use Total Concentration Breathing are more resistant to the transformative qualities of Muzan's blood.
Tamayo was also able to convert a human into a demon, although through science rather than the sharing of blood, but this method is nowhere near as efficient as it took her two hundred years to develop, and was put into practice only once. Yushiro was also able to demonize Chachamaru through an unknown method.
It should be noted that their creation is not a mystical process, but a biological one achieved through substances, suggesting Muzan's blood and the Blue Spider Lily medicine have mutagenic properties. As evidenced by Muzan pouring blood into a civilian, the process is performed at a cellular level, where if the mutation is too drastic, the victim's cells unable to withstand the change will be destroyed leaving only ash behind.
Restoration
Although not known at large, a demon's transformation is not permanent and can in fact be reversed. A drug that can reverse demonification was developed by Tamayo after hundreds of years of research using the blood of many strong demons that have high concentration of Muzan Kibtsuji's blood for testing. The drug's effectiveness seems to depend on the target, as a demon as powerful as Muzan was able to resist the effects, although it took massive biological effort to do so.
History
Origin
The first demon that is said to have existed was Muzan Kibutsuji. The one who turned him into a demon was a generous doctor from the Heian Period, who wanted to save Muzan from death since, at the time, he was diagnosed with a disease which would kill him before he turned twenty. Out of frustration and belief that the treatment would be useless and only cause him more suffering, Muzan killed the doctor before the latter could finish the treatment by letting Muzan consume the final part of his "Blue Spider Lily" medicine.
Shortly after, Muzan came to realize that the treatment had in fact worked and the effect was just delayed, prolonging his life, although at the cost of his humanity. He soon regretted killing the doctor, as he found out that becoming a demon made him unable to expose himself to sunlight anymore, as it burned him, and the only way to overcome the sunlight was by consuming the "Blue Spider Lily" medicine of the doctor, whom he had killed. The Blue Spider Lily however could not be found. Obsessed with walking under the sun once more and getting rid of his weakness, Muzan has made his the life goal to find the "Blue Spider Lily" by creating demons with his blood, in hopes that one day, a demon would come along to either be able to conquer the sun or be able to find the rare "Blue Spider Lily". This makes Muzan the progenitor of all demons.
Status
Following an arduous operation carried out by the Demon Slayer Corps in which they found themselves trapped in the Infinity Castle the vast majority of the demons upper echelon was destroyed. Muzan was also successfully eliminated during a struggle until dawn which ended with the demon progenitor burned to ash. Although Muzan would attempt a final push for survival by turning the Demon Slayer Tanjiro into a demon, which ultimately failed. With Muzan's defeat, all demons created through his blood died, leaving Yushiro and Chachamaru as the only demons that survived. With no demon bodies to preserve as well as recording historical documents of demons to be made, the knowledge of the demon race eventually fades into obscurity and mythology.
During the modern era, Aoba Hashibira, a botanist, discovers surviving specimens of the Blue Spider Lily but due to carelessness, causes all of it to wither. With seemingly all the flowers gone, the demon race has no apparent hope of resurrection. The only demons who are still alive is Yushiro and Chachamaru.
Abilities
Accelerated Growth Rate: Demons grow at superhumanly fast rates, dependent on the number of humans they have consumed and the amount of Muzan Kibutsuji's blood they have assimilated.[2][3] This allows even the weakest humans, like Rui when he was a human (due to his naturally weak physique), to become one of the most powerful beings in existence in mere months. As a result, demons are able to reach further heights that are impossible to attain when human as long as they keep assimilating Muzan's blood and consuming humans. Some demons, however, have a limit to how much they can use to grow stronger, and they might be not compatible with a higher amount of Muzan's blood and die if they don't consume enough humans.[4]
Biological Absorption: Some demons have displayed the ability to absorb biological matter into their bodies through physical contact, mainly as an alternative method for consumption.[5][6] It is also implied that demons can kill other demons by absorbing them into their bodies, as Kokushibo absorbed the demons that lost to him in Blood Battles. Muzan also used this ability to nullify a Blood Demon Art that pierced his body.[7]
Disease Immunity: Demons have an innate immunity to all types of diseases and ailments,[8] with complex anti-demon drugs and the poison of a Wisteria flower being the only exception, the former being able to effectively weaken demons and the latter able to kill demons if they receive even milligrams of the substance.[9]
Enhanced Senses: Due to their predatory nature, demons possess sharper sensory abilities. Most notably, demons can discern normal blood from marechi blood. A low level demon like Slasher was able to track the smell of bento back to its source.[10] As noted by Muzan, demons are able to distinguish things humans hardly understand, such as blood type, sickness, and genes.[11]
Extrasensory Perception: Some demons have developed a form of extrasensory perception that enables them to discern the aura of demons and humans alike.[12]
Flesh Manipulation: All demons have the shared ability which allow them to control and alter their own body's flesh to a certain extent, such as growing limbs, creating identical clones of themselves, and detaching body parts and remotely controlling them. Weaker demons, like the Temple Demon, are capable of completely creating a pair of arms on the bottom of their head[13] while members of the Twelve Kizuki possess flesh alteration abilities so advanced they can flawlessly generate fully-functioning weapons or clothing out of their flesh, to the point that they are indistinguishable from their normal counterparts. Lower Rank One, Enmu's flesh altering ability is so advanced that he could merge his entire body with a train, turning the locomotive into his flesh, blood and bones.
Immortality: Demons don't age, possessing eternal life that allow them to life for centuries without showing the slightest sign of deterioration or aging.[14] They are unable to be killed by conventional means, like suffering excessive injuries, but can be killed by sunlight, through decapitation by Nichirin Swords, Wisteria poison or if Muzan wills it.
Information Sharing: Demons possess the ability to disseminate and transmit information to one another through psychic means. Muzan Kibutsuji had used this information sharing ability to show an image of Tanjiro Kamado to Enmu after giving him orders to kill him.[15] Gyokko also stated that he recognized Muichiro Tokito's Demon Slayer Mark from the information of Tanjiro he received from Muzan.[16] Doma was privy to the poison that Shinobu Kocho used against the Daughter Spider Demon on Mount Natagumo.[17] Muzan was also able to give Kokushibo orders during the Infinity Castle Arc.[18] Kokushibo also knew of Tanjiro's existence and the fact that his brother's Sun Breathing still remains through this ability.[19] In the second databook, it was revealed that demons like Akaza could share his thoughts and sight with demons lower ranked than him and had complained to Muzan that Doma was using this ability to constantly bother him when the latter became Upper Rank Two.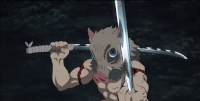 Inhuman Physical Capabilities: Even the weakest of demons possess inhuman strength, speed and endurance, being able to outmatch the average person in all physical categories effortlessly. For example, the Temple Demon and Swamp Demon can outmatch Tanjiro Kamado in terms of speed, moving faster than he can perceive or react. Even the weakest members of the Twelve Kizuki, like Rui, can cause Tanjiro to cough up blood with casual punches and kicks,[20] while Lower Rank demons with no combat background, namely Enmu, can evade Tanjiro's attacks and techniques without much effort.[21] A demon's physical abilities are implied to be directly tied to the amount of Muzan's blood they have assimilated and how much humans they have consumed.[2]
Menacing Aura: Demons have a naturally menacing presence and aura that evokes fear, with stronger demons having a more intense aura. The aura of Lower Rank demons like Rui can make the air feel heavy and thick with a mere gaze,[22] while Upper Rank demons like Zohakuten and Kokushibo possessing auras that can induce fear and physical pain into their opponents or even make them lose the will to fight.[23][24]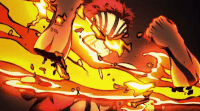 Regeneration: Demons have incredible regenerative abilities far superior than any living being or human due to the properties of Muzan Kibutsuji's demonic blood, able to heal any sort of physical injury in mere seconds, including deep cuts, organs, chunks of flesh, entire limbs or even their head and entire body.[25] Stronger demons can heal more serious injuries faster and more precisely than weaker demons. For example, the average demon would take a dozen seconds to regrow an entire arm, while the likes of the Upper Ranks can repair it in the same second it was sliced off, faster than even most skilled Demon Slayers can react to, making it seem like it happened instantaneously. The fastest and most impressive regeneration feats belong to the Demon King, Muzan Kibutsuji, who can heal any injury so swiftly that it makes it seem to marked Hashira that the attack simply phased through him or that he never got injured in the first place.[26]
Supernatural Blood: All demons have supernatural and special blood that originate entirely from Muzan Kibutsuji. It is the main source of all their abilities, characteristics, attributes and capabilities, thus being the most important aspect of demons. The higher the concentration of Muzan's blood a demon possesses, the overall stronger they are. Once demons grow strong enough, they develop supernatural abilities unique to themselves known as Blood Demon Arts,[27] magic uses a demon's blood as a medium.
Unlimited Stamina & Endurance: All demons have a shared physical trait of endless and limitless stamina and vitality, simply being unable to accumulate fatigue or get tired no matter how hard they try to exert themselves. Demons can also endure pain and discomfort much better than humans and even the likes of Hashira, taking on onslaught of attacks as if they were nothing, such that a severed arm or slashed neck wouldn't even bother them. It is also revealed that demons don't need to sleep. Giyu Tomioka stated that demons don't feel pain or exhaustion.[28]
Weaknesses
Sunlight: The greatest threat to nearly all demons is sunlight, which ignites their cells, severely limits their regeneration, and fatally burns them to ashes.
The only demons so far to have developed resistance to sunlight are Nezuko Kamado and Tanjiro Kamado.
Nichirin Swords: Nichirin Swords are blades made out of Scarlet Crimson Iron Sand and Scarlet Crimson Ore, which absorbed sunlight to such an extent that a decapitation strike with such a weapon can instantly kill a demon.[29] There are exceptions, however, as Muzan, Akaza, and Kokushibo overcame this weakness and survived decapitation by these blades.
Wisteria Flowers: The Wisteria flower is poisonous to demons, and releases a scent that can repel demons. Wisteria flowers can be used to create deadly and highly potent poison mixtures to easily kill demons in small amounts, and later contributed to the death of Upper Rank Two Doma, though he had to ingest over 700 times the lethal dosage.
Curse of Kibutsuji: Every demon created through Muzan's blood is also inflicted with a deadly curse which activates if they call out divulge any information about him, most commonly by saying his last name in the presence of Demon Slayers. Demons like Tamayo, Yushiro and Nezuko, however, have freed themselves from the curse.
List of Known Demons
Click the 'Manga' tab to reveal the statuses of members as of
this chapter
. Beware of spoilers.
Status as of Anime
Click the 'Anime' tab to reveal the current statuses of members as of where the anime is currently up to.
Status as of Manga
Trivia
Demons' eyes are continuously damp, so they don't need to blink.
Demons share many similarities with vampires as they're depicted in traditional tales.

They are both immortals with inhuman traits, supernatural abilities, who consume humans, and they both are weak to the same three things: sunlight, a special fragrance (garlic for vampires, Wisteria for demons) and a certain metal (silver for vampires, Nichirin Swords for demons).

Demons are unable to process human food, when they ingest human food, they simply throw it back up.
Demons don't sleep, so they're awake during the day, but it's dangerous if even a little sunlight shines on them, so they don't move around much.
Nezuko, Tamayo, Yushiro, and later, Chachamaru are the only demons not under the control of Muzan.
References