We're Getting Mutants in the MCU - The Loop
Play Sound
The Boar Bares Its Fangs, Zenitsu Sleeps (猪は牙を剥き 善逸は眠る, Inoshishi wa Kiba o Muki: Zen'itsu wa Nemuru?) is the 12th episode of the Kimetsu no Yaiba TV anime series.
Synopsis
Tanjiro and Zenitsu end up getting separated inside the mansion, where the rooms rotate each time the tsuzumi drum is played. Without Tanjiro, Zenitsu is overcome by fear and despair, but he must protect Shoichi. Meanwhile, Tanjiro encounters the demon, the master of the mansion, playing the tsuzumi drums, and also a strange-looking man wearing a boar hide.[1]
Plot
The unknown Demon Slayer prepares to attack the Drum Demon, charging at the creature with his dual Nichirin Swords. In retaliation, the demon taps a tsuzumi, causing the room to turn sideway and evade the attack. As it does, Teruko lands hard on the upside down ceiling. Tanjiro instructs her to hold onto furniture but is hit by the masked stranger using him as a springboard to leap from. Annoyed, he tells him to focus on the demon, not his own reckless attacks.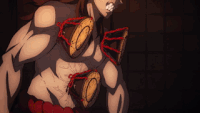 The demon taps its drum twice, spinning the room right-side up again. Teruko lands on the floor but is stepped on by the masked Slayer, finding enjoyment in the rotating rooms. Seeing this, Tanjiro angrily grabs his leg and flings him away, cursing him for hurting a little girl. In response, he claim no person has ever thrown him like that and attacks Tanjiro with their swords.
As he backs away, Tanjiro wonders why he is being challenged by a Demon Slayer. The stranger tells him their swords will hurt him, as they rip flesh to his liking. Tanjiro tries to remind him of the threat of the demon but he charge at him regardless. Infuriated by their presence, the Drum Demon taps the tsuzumi on his stomach, causing giant claw marks to slice in front of Tanjiro and the masked Demon Slayer.
The demon begins to attack and rotate the rooms simultaneously; as he spins, Tanjiro begins to see the pattern between the tsuzumis and their respective movements. But as he begins to get used to them, the demon begins uttering something, causing the rooms to change instead. Losing track of the demon in a new room, Tanjiro suddenly detects the scents of multiple demons within the mansion.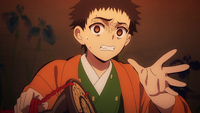 He then detects the smell of blood; he opens a nearby door, looks into the hallway and finds a corpse. Shocked to find another lost life, he leads Teruko in another direction. While making their way down the hall, he detects a new scent; Tanjiro opens the door and finds the children's lost older brotherholding a tsuzumi.
Elsewhere, a terrified Zenitsu holds his companion Shoichi's hand at they walk through the dark hallways. Already on edge, he becomes more scared when the boy suddenly asks him a question. He angrily scolds him for causing him a fright and for not signalling when he was about to speak, claiming he would be branded a murderer for causing his heart to leap out of his mouth. Shoichi, tired of dealing with Zenitsu's fear, mentions he has been shivering and sweating for some time now. He says that him being fearful in turn causes him to be nervous; apologetic, Zenitsu exclaims they need to be quiet so as to not attract demons, though yells while doing so.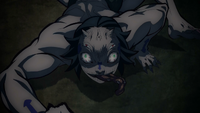 Suddenly, Shoichi looks at something behind the Demon Slayer and becomes scared. Zenitsu turns around and sees an approaching demon, excited to see them. They run away but the monster pursues; he claims that they taste bad but the demon wants to taste them first, using its long tongue to attack. They are followed into a room, bursting through the wall while doing so. Zenitsu begs the child to make a run for it, claiming his fear is now in his knees.
Despite not wanting Shoichi to die young, he struggles to find the courage to fight. The demon then enters the room with them and fear finally overwhelms Zenitsu, knocking him unconscious. Shoichi is stunned to see the Demon Slayer asleep, now cornered by the demon. The demon uses its tongue to try and grab him as the boy desperately yells for Zenitsu to wake up, causing his hand to twitch slightly. Without warning, the demon's tongue fall off at the tip. As the demon becomes shocked by the sudden pain, Zenitsu stands up, to the demon and Shoichi's wonder.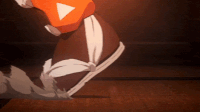 The Demon Slayer takes a stance and begins to breathe; the creature looks on, confused at the unexpected and strange sound but notes that he feels different now. Zenitsu unsheathes his sword and uses Thunder Breathing, First Form: Thunderclap and Flash, speeding forward at lightning-fast speed and decapitating the demon instantly. After his strike, he suddenly snaps awake again, just as the defeated demon's head rolls next to him. He reacts with terror and sees the demon is already dead to his surprise, believing and thanking Shoichi for defeating the demon, much to his bewilderment.
While travelling through the hallways, the masked Demon Slayer irritably recalls when the Drum Demon had just launched him away, remembering it has been three days of battling it like this. Upon reaching a turn, a hand attempts to grab him but he flip back to safety in the nick of time. A heavy-set horned demon appears, calling him a fresh human and wanting to devour him.
The Slayer readies themselves by breathing using a self taught technique; Beast Breathing. As the demon steps forward, he quickly slash off its arms and lunge forward, using both blades in the move Third Fang: Devour and easily slicing off the demon's head. Using the corpse to leap from, the Demon Slayer launches himself with a push and proudly continues his way through the mansion.
The Drum Demon continues to mutter about wanting to devour someone with Marechi blood, stating it is worth devouring a hundred people. Upon doing so, the demon says he can then reclaim his place among the Twelve Kizuki, revealing his former place of Lower Rank Six. He remembers when he was found by Muzan in the mansion, who addressed him by his name Kyogai. Muzan sees the corpse he was devouring is unfinished and asks if he is done eating.
Kyogai denies this but has his engraved eye slashed by the Demon Progenitor. Kyogai begs for more time but Muzan refuses, stripping him of his rank. Kyogai reminisces on when he first received power from him; the incredible power of his blood left him in awe and he remembers when he first claimed his role among the Twelve Kizuki to devour more humans and get stronger, or so he believed.
Teruko rushes to her brother Kiyoshi and hugs him in relief. Tanjiro approaches them and introduces himself to the elder brother. He asks to see his wound; Kiyoshi shows his injury but begins crying from the pain. The Demon Slayer then excitedly reveals ointment he was provided with from Urokodaki, while commending the boy for his survival. After patching his wound, Tanjiro asks what had happened; Kiyoshi reveals he was dragged away by a monster, Kyogai, and nearly devoured. He was unexpectedly rescued when more demons appeared and argued over who gets to devour him; the Tongue Demon and Horned Demon. During their scuffle, the Horned Demon had ripped off a tsuzumi from the Drum Demon's back. Kiyoshi picked it up and tapped it, causing the room he was in to change.
Tanjiro remembers Kyogai kept referring to him as "Marechi"; his Kasugai Crow answers that Marechi refers to someone with rare blood; explaining that human blood has different rarity and value to demon. Someone with rare blood is more valuable as they can be worth fifty or even a hundred people if devoured. As Tanjiro and the children hear this unsettling piece of information, he senses Kyogai approaching them.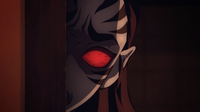 Tanjiro informs the children he must leave the room to battle him and instructs Kiyoshi to strike the tsuzumi as he leaves; he promises to find them after the battle and tells them to hold on for a little longer. With Kyogai in sight, he rushes out of the room and gives the signal; Teruko strikes the tsuzumi and changes the room to protect him and his sister.
Kyogai spots the Demon Slayer and taps twice, flipping the room upside down; however, Tanjiro is able to predict the change and lands safely on the ceiling. Kyogai repeatedly strikes his tsuzumis to disorient his opponent but Tanjiro remembers the specific movements of each one and moves according to anticipate the change. Despite being flipped throughout the room, Tanjiro stays in sync and lunges at Kyogai, but is forced to stop his attack when Kyogai nearly kills him with his central tsuzumi's claw attack.
Tanjiro remembers that despite Tamayo patching his injuries, they have not healed since his last mission. He questions himself on whether he can defeat the demon, as the pain causes him to struggle staying up. When he confronted Zenitsu earlier and yelled at him, the pain was at its worst but he continues to endure it, only able to soak it up because he is the eldest sibling.
As Tanjiro lands down to soak up the discomfort of continual movement, Kyogai attacks him again, forcing him on the move once more. He notes that not being at full strength causes the pain to make him stumble, leaving him vulnerable to the claw attack. Looking for help, he remembers Urokodaki's advice on Water Breathing. Water can change into anything; it can take any form, can smash boulders and flow forever. With ten different forms, he can adapt to keep on the move even while injured.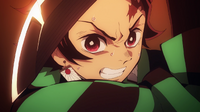 He remembers Zenitsu's words that a "broken Tanjiro's not gonna do any good"; annoyed at his statement, Tanjiro pushes himself to keep looking forward. He urges himself to give his all and stands up to battle the Drum Demon. He has survived until now and has what it takes to keep going. Raising his sword at the enraged demon, he vows that, "Even if I am broken, I'll never give up no matter what!".
Characters in Order of Appearance
Anime Notes
References