Spider-Man: No Way Home Trailer Dropped - The Loop
Play Sound
The Final Selection Arc (最終選別編, Saishū Senbetsu Hen?) is the first arc of Kimetsu no Yaiba.
Synopsis
Tanjiro Kamado and his sister Nezuko Kamado are introduced as the main protagonists of the series. The Kamado Family is slaughtered by Demons and Nezuko is transformed into one. This chain of events thrusts Tanjiro into his journey to avenge his family and restore his sister's human form.
In order to carry out his mission, Tanjiro must become a Demon Slayer. Giyu Tomioka sends the Kamado siblings to stay with his teacher, Sakonji Urokodaki. Sakonji takes them in and trains Tanjiro to become a swordsman. Nezuko falls into a deep sleep during the two years it takes Tanjiro to master Water Breathing.
During his training, Tanjiro meets two spirits of Sakonji's former students. They train Tanjiro and give him the strength of all of Sakonji's fallen children. This allows Tanjiro to qualify for the Demon Slayer Corps Final Selection.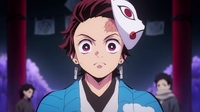 On Mt. Fujikasane, where Final Selection is held, a Demon lives that has slain thirteen of Sakonji's students. Makomo and Sabito believe that Tanjiro can be the one to avenge all Sakonji's children. Tanjiro crosses paths with the demon and struggles to best its power. However, with the guidance of souls closest to his heart, Tanjiro bests the monster.
Tanjiro and four other students are the only ones to survive seven days in Final Selection. They are marked with the lowest rank of Demon Slayer and each of them picks a Nichirin Sword ore. Tanjiro returns to Sakonji's house to find Nezuko has awoken. She embraces him and they reunite after years along with Sakonji, who's grateful to find one of his children has survived. Days later, Tanjiro's blade is delivered to him by a swordsmith, and proceeds to turn black when he holds it. He receives orders for his first mission soon after.
Significant Events
Storyline
Final Selection Arc
| | |
| --- | --- |
| Tanjiro Kamado heads into the village to sell coal | |
| | |
| --- | --- |
| Murder of the Kamado Family while Tanjiro is away | |
| | |
| --- | --- |
| Nezuko Kamado is the sole survivor and transforms into a demon | |
| | |
| --- | --- |
| Tanjiro and Nezuko meet Sakonji | |
| | |
| --- | --- |
| Tanjiro trains with Sakonji on Mt.Sagiri | |
| | |
| --- | --- |
| Tanjiro returns to Mt.Sagiri | |
Final Selection Arc
| | |
| --- | --- |
| Tanjiro Kamado heads into the village to sell coal | |
| | |
| --- | --- |
| Kamado family gets murdered while Tanjiro is away | |
| | |
| --- | --- |
| Nezuko Kamado is the sole survivor and transforms into a demon | |
| | |
| --- | --- |
| Tanjiro and Nezuko meet Sakonji Urokodaki | |
| | |
| --- | --- |
| Tanjiro trains with Sakonji at Mt.Sagiri | |
| | |
| --- | --- |
| Tanjiro returns to Mt.Sagiri | |
References