WELCOME TO THE KIMETSU NO YAIBA WIKI!
Heavy spoilers ahead, read with caution! Please see our Rules & Policies here.
---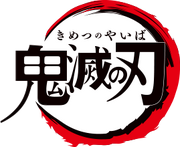 This is a Wiki about Kimetsu no Yaiba that was created by the fans, for the fans, and is dedicated to housing a useful and informative database for all subject matter related to Koyoharu Gotoge's series Kimetsu no Yaiba. Anyone can edit! We encourage users to help improve this wiki even more. Check out the above links to get an idea of how wiki editing works. Please read our Policies here.
729

articles

4,374

files

104,993

edits

113

editor(s)
Warning: This Wiki Contains Spoilers! Please Read At Your Own Risk.
STORY
In Taisho-era Japan, Tanjiro Kamado is a kindhearted boy who makes a living selling charcoal. However, his peaceful life is shattered when a Demon slaughters his entire family. His little sister Nezuko is the only survivor, but she has been transformed into a Demon herself! Tanjiro sets out on a dangerous journey to find a way to return his sister to normal and destroy the Demon who ruined his life.
CHARACTERS
---
See Characters for the full list of character articles.
POLL
Q1: What are you most excited for about the movie?
Q2: Who's your favorite of the Hashira?
Q3: Who's your favorite of the Kizuki's Upper Ranks?
ACTIVITY
Latest Posts
 So I think, that maybe i should do a story line, with Kimetsu no yaiba. I´m also quite new here s…
Idqau
•
Here I will properly explain why some of the character's hair is colored the way they are.
These are…
See more >
AFFILIATES
If you would like to become an affiliate of Kimetsu no Yaiba Wiki, contact us.
LATEST RELEASE
See Events page for monthly updates
GETTING STARTED
Our wiki is under construction and expanding. With your help, we can develop its contents for the better.
Anonymous editing is disabled on the wiki. To contribute, you must login or sign up for an account. You can get started by editing typos, work on stubs or leave feedback on talk pages.
If you need help, please refer to the Help pages, FANDOM University or ask an Admin.
Check out these projects to see which areas of the wiki are in need of help:
Stubs are articles that have little to no content and need to be expanded. Help make stubs into articles by adding more information.
Upcoming Anime Highlights