| Demon Form | Description | Attacks |
| --- | --- | --- |
| | Main form of Upper Moon 4 which is a diminutive version of the original body and also the body possessing Hantengu's "core." This body has incredible physical fortification and durability, that not even Genya's Sun Steel bullets or sword could penetrate his flesh, despite Genya using his demon enhanced strength to further strengthen his attacks. | N/A |
— Hantengu's Blood Demon Art —
---
---
Ranks
Members of the Demon Slayer Corps are separated into ten different ranks. From lowest rank to highest, these ranks are:[6]
Mizunoto → Mizunoe → Kanoto → Kanoe → Tsuchinoto → Tsuchinoe → Hinoto → Hinoe → Kinoto → Kinoe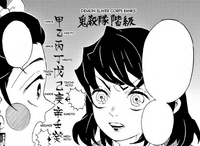 Once a Demon Slayer has fully settled into the organization, they are classified as a member of the lowest rank: Mizunoto. They must complete a variety of missions to ultimately climb the ranks and reach the highest Demon Slayer position: Kinoe.
---
}}
---
General Info
Good Afternoon! My name is Jess and I am an Admin for the Kimetsu no Yaiba Wiki. If you have any questions or concerns, feel free to leave me a note on my message wall. Or contact me on Discord. Enjoy!
---
---
Manga
---
Extra Pages
----
---
Cite error: <ref> tags exist, but no <references/> tag was found
Community content is available under
CC-BY-SA
unless otherwise noted.